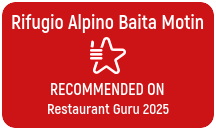 Baita Motin
 Recommended on
Restaurant Guru 2019
BAR
The bar in the refuge offers hot and cold drinks, appetizers, hot and cold sandwhices, snacks, salumi, cheeses and local products.
RESTAURANT
The kitchen in Baita Motin, little jewel and realm of our Chef, everyday offers fresh dishes of the "Typical Valtellina Tradition" alternated whit classic recipies to satisfy everybody's tastes and needs. The quality of the fresh raw materials, daily chosen, the care in preparing dishes and with a scrap of creative flair and fancy of the Chef, will amaze you and let you make a really unique and unforgettable experience.
OVERNIGHT STAY
Baita Motin provides a room (typical in a refuge) with ten beds (nine are bunk ones and one is single).
Beds are complete with woollen blankets, disposable sheets (TBT) and pillows.
A personal sleeping bag is necessary/advised.
DISABLED ACCESS
When necessary it's possible to reach the refuge by a motor vehicle (subject to a way-leave).
In toilets, solarium, bar and restaurant there aren't any architectural barriers.
FREE WI-FI
In Baita Motin Wi-Fi service is free for the guests.
OPEN ACCESS TO DOGS
According to the normal rules of living together among the guests, dogs are always welcome and they'll find a small refreshment corner fit for their needs.
PLAYGROUND
Next to Baita Motin there's a playground for the youngest guests, to provide amusement in an area for them only.
TOILETS
In Baita Motin there's a large toilet, with hot water all the year round and without any architectural barrier.